Motor Vehicle Accidents
Medical Malpractice
Premises Liability
Dog Bites
Product Liability
Boat Accidents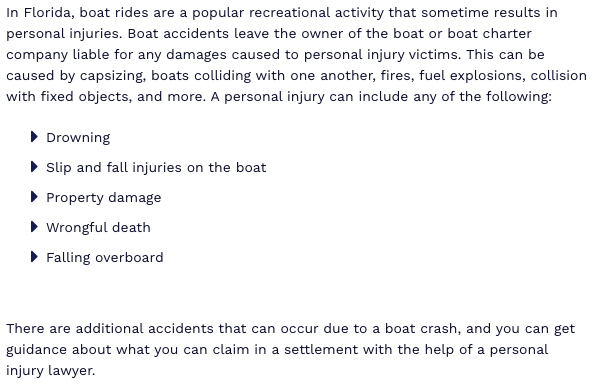 In order for your St. Petersburg personal injury lawyer to get compensation for you, they have to prove that the other party can be held liable for your damages. This requires evidence that fulfills the four tenets of negligence: duty, breach of duty, causation, harm.
Duty of Care
Attorneys seek to discover how the other party was unable to provide you a duty of care that they must uphold. This is the expectation that everyone must behave responsibly and reasonably. When someone is grossly negligent with disregard for your personal wellbeing, this can result in them causing injury to you.
Breach of Duty
When the other party behaves in a neglectful way that could have been avoided and are unable to provide the duty you are owed, this is a breach of duty. For example, when a doctor misdiagnoses you with rosacea when you have skin cancer, this is a breach of duty.
Causation Due to Negligence
If the actions of the other party directly lead to an accident, then this means that they can be held liable for negligence. An example is when a truck driver fails to take obligatory scheduled breaks, which results in them falling asleep while driving. This causes an accident that can be directly connected to negligence because they broke the rules.
The Negligence Causes Harm
When you suffer losses due to the breach of duty, then you have a personal injury case. If you suffered no damages, then you cannot seek compensation from the other party. For example, when a dog bites you but does not injure you, then you cannot seek a settlement from the dog owner.
When you get into a personal injury accident, you should begin collecting information and evidence of your accident. Your personal injury lawyer will use all of the data you documented to make a strong claim for compensation.
Take Pictures of Your Personal Injury
After your accident, take pictures of where you got hurt, what may have caused it, as well as your injuries. For example, if you got cut due to exposed metal jutting out of a wall, take pictures of it. Show where it is located and how difficult it was for you to spot it. Photographs are solid evidence of the circumstances that caused your accident.
Get Medical Help
You should see a doctor to get the medical treatment you need. They can perform imaging scans and reveal any soft tissue injuries or hairline fractures you received. This prevents you from discovering injuries much later, as this can complicate your claim to compensation or make others accuse you of fraud. The sooner you know what your personal injuries are, the more accurate your settlement amount will be. All of your medical bills can be included in the settlement.
Collect Information from Witnesses
If there are witnesses present, get their contact information so that you can contact them later. Witnesses are helpful because they can give their account of what happened. If you wind up having to file a lawsuit, witnesses can provide a testimony in person.
Get the Contact Information from the Other Party
You will need to collect the contact information of the other party involved in the accident. This is so that you don't have to try and hunt them down at a later date. With their information on hand, your personal injury attorney can contact them and make the process of negotiating a settlement more efficient.
Speak With a St. Petersburg Personal Injury Attorney
Once you have all the essential information gathered, you can connect with a personal injury lawyer so they can provide further guidance. If there were any areas you neglected to report on after you were injured, your attorney can help fill in the gaps. St. Petersburg attorneys are very knowledgeable about how personal injuries are calculated and how they can help you get compensation for your damages.
St. Petersburg attorneys know how to deal with insurance companies, commercial businesses, and other liable parties who are to blame for your personal injury. It can be very difficult to speak with the person responsible for your accident, however, attorneys can handle your settlement claim for you.
Attorneys Draft Documents
You can depend on your attorney to manage all of the documentation of your personal injury claim and keep it free of errors. They will outline in detail all of your expenses, damages, and grievances in an orderly and organized way. This information will be promptly provided to the other parties, so they are made aware of the full extent of your personal injury.
They Get Additional Supportive Evidence
Attorneys are experienced investigators and will examine all of the evidence you provided and also seek more. They may see other angles that they can use to support your claim, and can find additional evidence on your behalf. For example, if you fell on a property where there are cameras monitoring the business, they can request the footage and examine the video. Attorneys can request background history on other parties, investigate the certification of a company, and dig deep on information that you normally wouldn't have access to.
Attorneys are Smart Negotiators
Your attorney will use your evidence to show that your claim for a settlement is legitimate. They can show that the other party is liable for your personal injury. If the other party doesn't agree to negotiation, you can file a lawsuit. This is unlikely and often avoided because a trial is expensive, time-consuming, and unpredictable.
They Estimate Your Claim
You cannot calculate your personal injury alone since you may overestimate or underestimate the total amount you are due. Your attorney will use industry standards to calculate your economic and non-economic damages. Settlements commonly include the following:
Economic Damages
Your economic damages are expenses that can be estimated numerically and often are documented in the form of a receipt. For example, your medical bills will be one of the major sources of your economic damages. This includes surgery, prescription medicine, medical tests, therapy, medical scans, and more. You should also include any property damage and any financial loss. Your income loss will also be added because you are losing money by not being able to work full-time. Economic damages are ongoing, so future clinic visits and projected wage loss should be included.
Non-economic Damages
Your pain and suffering is a form of non-economic damages, as are emotional problems such as depression, anxiety, shame, guilt, and other severe emotional distress. If you are feeling discomfort, physical suffering, or other turmoil, this should be included in your settlement.
Attorneys Will Represent You Professionally
In addition to representation to other parties, your attorney will represent you in court. They present your case in a logical and factual way that provides all the accurate proof of how your injury was caused.
Get Additional Help From a St. Petersburg Lawyer