The death of a loved one can be one of life's most difficult situations. When an accident occurs that leads to the preventable death of your family member, it can be devastating. Those left behind are expected to carry on while dealing with an unexpected and preventable loss.
Family members of the victim often have many questions regarding their loved one's death and its impact on their future. When someone you love is killed as a result of someone else's negligence, the beneficiaries of the deceased can file a civil lawsuit known as a wrongful death claim. This allows them to seek compensation from those liable for their losses.
Financial compensation can't replace your loved one, but it can help to make you financially whole again after your loss. Knowledgeable St. Petersburg wrongful death attorneys from Lewis & Castagliola have helped grieving Florida families with their wrongful death settlements and helped them to get closure and regain their financial stability.
St. Petersburg Wrongful Death Claim
A wrongful death claim is a civil lawsuit filed by the personal representative of the deceased's estate. Generally, Florida wrongful death cases are filed on behalf of the immediate survivors. If your loved one died as a result of the negligence of another party in Florida, you may have the right to seek compensation.
A St. Petersburg wrongful death lawsuit seeks monetary damages from the at-fault party that caused the preventable fatality. Wrongful death is a separate procedure from the other Florida criminal prosecutions the person or company that caused the victim's death may be facing.
For example, a drunk driver can be charged by St. Petersburg police and face criminal prosecution for causing a fatal accident. The drunk driver can also be held responsible by the family through a wrongful death lawsuit. A St. Petersburg personal injury lawsuit can demand financial damages from the drunk driver's insurer.
Causes of Wrongful Death in St. Petersburg, FL
Many circumstances can lead to fatal injuries. When negligence is involved, a fatal injury could provide the foundation for your wrongful death lawsuit in Florida.
Our St. Petersburg Personal Injury Attorneys have tried wrongful death cases that have resulted from the following types of accidents:
Boating accidents
Construction accidents
Negligent medical care
Unsafe or mislabeled products
Dangerous conditions on a property
Work-related accidents
Intentional criminal acts
Accidents are some of the most common causes of wrongful death. Most wrongful death claims are preventable with proper car and motorcycle safety practices. If your loved one died in a fatal accident through no fault of their own, speak with a St. Petersburg wrongful death lawyer in your community right away.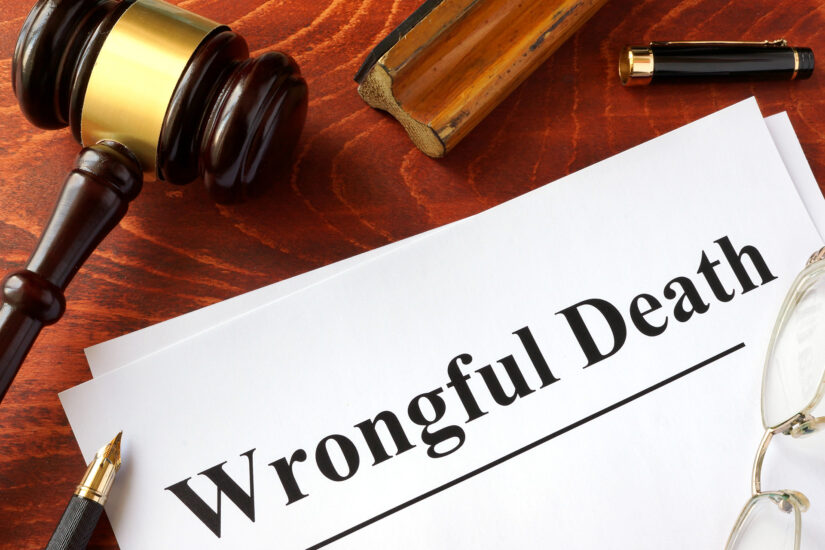 Wrongful death can also be caused by an assortment of derelict actions such as:
Defective automobiles, parts, and machinery
Drunk or distracted driving
Medical negligence
Pharmaceutical errors
Industrial or construction accidents
Fatal workplace incidents
Wrongful Death Compensation
In St. Petersburg, compensation can be sought for certain kinds of losses in a wrongful death lawsuit. A St Petersburg wrongful death attorney can help you recover damages for the following:
Loss of care, guidance, and companionship
Pain and suffering
Loss of support services
Punitive damages in cases involving intentional or outrageous conduct
If you're looking to explore a St. Petersburg wrongful death case for your loved one, consider working with a personal injury law professional experienced in car accidents and more. St. Petersburg wrongful death lawyers can help you determine exactly who's liable in your wrongful death case.
Liability in a Wrongful Death Claim
When you and your St. Petersburg wrongful death lawyer seek to prove liability, it can largely depend on the specifics of your loved one's case. At Lewis & Castagliola, P.A., our knowledgeable and dedicated legal professionals will examine the circumstances surrounding your loved one's death and pursue just compensation from any liable parties.
Florida Wrongful Death Damages
The deceased's loved ones can receive compensation for the following types of losses in wrongful death torts:
Medical and funeral expenses
Lost earnings from the date of injury to death
Future lost income the deceased would have earned
Pain and suffering before the accident victim died.
Our empathetic wrongful death attorneys are available to answer your questions and concerns and discuss the appropriate steps to take in a free no-obligation consultation. Contact us today.
Who Can File For Wrongful Death?
The State of Florida allows a wrongful death lawsuit to be brought on behalf of the accident victim's immediate family. This typically includes the spouse, children, parents, and other relatives who were dependent on the deceased.
Each survivor can recover the value of lost services and support from the date of their loved one's death. Surviving relatives can also pursue compensation for the value of future lost support and services.
The surviving spouse typically claims compensation for the loss of their loved one's companionship. Minor children may seek compensation for the loss of parental guidance. The parents of a deceased minor child can recover damages for mental pain and suffering caused by the untimely passing of their child.
What if My Loved One Lives For A While After the Accident and Then Dies?
If your relative's death was a direct result of the injuries or illness caused by someone else's negligence, you could qualify to file a wrongful death suit. Sometimes, like with mesothelioma and other medical issues, your loved one could pass away years after the initial accident.
What if One of the Survivors Decides That They Do Not Want to Sue?
In many states, lawsuits can only be brought by spouses and minor children. If the deceased was not married, then adult children, parents, or further distant relatives could also file a lawsuit. If you have questions about whether you may qualify, contact a wrongful death lawyer at Lewis & Castagliola, P.A.
Wrongful Death Statute of Limitations in Florida
The length of time you're allowed to file a Florida wrongful death lawsuit is typically four years from the date of the accident. However, the length of time allowed for wrongful death involving medical malpractice is two years.
Extenuating circumstances can lead to more time of being able to file a medical negligence wrongful death claim. This is especially true in cases involving fraud or intentional concealment by a healthcare provider that causes a delay in the discovery of the cause of death.
Failure to Meet The Deadline
If you don't submit your claim before the Florida wrongful death statute of limitations deadline, your failure to take legal action within the time allowed could lead to the court dismissing your claim.
Wrongful death suits take time to investigate. Bringing light to the circumstances of a death and identifying who should be held accountable for the wrongful death is not always quick and easy. Therefore, it is important to contact a wrongful death attorney as soon as possible to begin work on your wrongful death claim.
Wrongful Death Comparative Negligence
Some states, like Florida and New York, are pure comparative negligence states. This means a wrongful death lawsuit can still be filed if the decedent was partially at fault for the accident that resulted in their death. However, the compensation they may be entitled to will be reduced by the percentage that they were at fault.
How Our Wrongful Death Florida Law Firm Can Help
Lewis & Castagliola, P.A.'s compassionate attorneys can review the circumstances of your loved one's death. We can also explain your legal rights and the appropriate steps to take. If negligence on the part of another party caused your loved one's death, you have a right to hold the wrongdoer responsible. Choosing the right wrongful death attorney can help.
Our attorneys can thoroughly investigate the fatal accident to determine what caused the death and who should be held responsible. We will calculate the losses that you and your family have suffered due to your loved one's death. Finally, we can seek out all sources of insurance that may be available to cover your losses.